---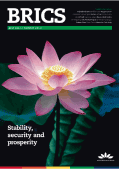 The BRICS New Delhi Summit 2012
Sudhir Vyas, secretary (economic relations), Ministry of External Affairs, Government of India, and Indian sherpa for the BRICS summit
From "BRICS: The 2012 New Delhi Summit, edited by John Kirton and Marina Larionova with Yoginder K. Alagh,
Published by Newsdesk Media, 2012
Download the PDF
The five countries in BRICS form a unique group. It is not geographical in its rationale, such as the European Union or the Association of Southeast Asian Nations; or commodity-based, like the Organization of Petroleum Exporting Countries; or a security-based alliance such as the North Atlantic Treaty Organization. Beyond the economic rationale in the 2001 Goldman Sachs vision – the potential as drivers of growth – Brazil, Russia, India, China and South Africa are brought together by their shared will and capacity to engage constructively with the world community in the quest for sustainable solutions to the contemporary issues and challenges facing the world. The attention commanded by BRICS is unprecedented. Its views matter.
Institutionalised with the first meeting of foreign ministers in 2006, BRICS has evolved as a serious, competent and responsible grouping in addressing issues and challenges with global and regional ramifications. BRICS seeks sustainable and inclusive development in an enabling environment of a democratic, equitable and rule-based world order.
Combined strength
The members' collective weight, both physical and economic, provides them with an unparalleled capacity to influence the global discourse. BRICS draws strength from mutually reinforcing bilateral ties among its members that, over the years, have acquired strategic depth. Regular consultations among the BRICS countries on various sectoral issues, in addition to the annual summit events, add an important facet to their bilateral ties and a platform for them to come together for consultation, coordination and cooperation among themselves.
Commonalities of approach among the BRICS members to contemporary global and regional challenges were evident throughout 2011, when all the BRICS countries were together in the United Nations Security Council. The BRICS members believe in multilateral approaches to finding solutions to regional and global issues, and see a central role for the UN in this.
The canvas of the BRICS agenda is very broad. Beginning with regular and intensive consultations on the international financial and economic situation – unsurprisingly, given the salience of the global economic slowdown in 2008 that affected the BRICS members, too – the agenda today encompasses global concerns such as climate change and sustainable development, food and energy security, the global trading order and international and regional political developments.
A number of cooperation mechanisms have been developed for deepening intra-BRICS cooperation. Meetings of BRICS trade and economic ministers, agriculture ministers, health ministers, senior officials on science and technology, a contact group on economic and trade issues, and other such meetings have been useful in this regard. Regular meetings of foreign ministers and finance ministers are a feature on the BRICS calendar. And there are other areas where synergies of BRICS technological capabilities serve the cause of its peoples, perhaps also contributing to evolving global positions of contemporary relevance.
Intra-BRICS trade is increasing at an average rate of 28 per cent annually and currently stands at about $230 billion. Bilateral investment flows among BRICS members are also increasing. Consumer expenditure in BRICS countries as a percentage of gross domestic product ranges from 35 per cent to 61 per cent, and there is a strong and growing middle class, with rising levels of income. The BRICS countries today comprise new growth poles in a multipolar world. During the global economic and financial crisis, the BRICS countries played a vital role as drivers of growth that helped the global economy emerge from the shadows of crisis. They are not a threat to global growth, but an opportunity for global growth.
The fourth summit in New Delhi is taking place against the backdrop of several important developments, both economic and political. A faltering global recovery made more complex by the crisis in the eurozone is affecting growth; important international events on climate change and sustainable development touch on issues of high relevance to the BRICS agenda; the completion of Russia's accession process at the eighth World Trade Organization ministerial conference opens new strands of engagement; and so on. The summit offers the leaders an opportunity for consultations on these issues and a broad slate of others of global concern.
The BRICS summit will focus on ways and means to deal with the lingering shadows of the global economic and financial crisis. It may also touch upon the global governance architecture and a host of issues there that are increasingly relevant to BRICS countries. Patterns and a calendar of consultation and coordination among the BRICS members over the coming year may be expected to figure on the summit agenda.
---