---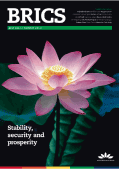 BRICS: The 2012 New Delhi Summit
Edited by John Kirton and Marina Larionova with Yoginder K. Alagh,
Published by Newsdesk Media, 2012
Editors' foreword
From reform to crisis response: addressing the key global issues
Marina Larionova and John Kirton
Leaders' perspectives
BRICS: a view from the top
Recent reflections from the five leaders of the BRICS countries on the key issues affecting their developing economies
Introductions
Sergey Lavrov, minister of foreign affairs, Russian Federation
Welcome to Delhi: a crossroads for global exchanges of ideas
Tejendra Khanna, lieutenant governor and administrator of national capital territory of Delhi
Sudhir Vyas, secretary (economic relations), Ministry of External Affairs, Government of India, and Indian sherpa for the BRICS summit
Yoginder K Alagh, chair, Institute of Rural Management Anand; former minister of power, planning, science and technology, India
Special perspective
Nursultan Nazarbayev, president of Kazakhstan
Building the BRICS institutions
Jim O'Neill, Goldman Sachs
What interests do the BRICS countries share?
Nitin Desai, former under-secretary-general, United Nations
Time for BRICS to develop an external relations strategy
Vadim Lukov, ambassador-at-large, Russian Ministry of Foreign Affairs; Russia's BRICS sous-sherpa
Advancing accountability in BRICS governance
Ella Kokotsis, BRICS Research Group
Participating powers
Russia as an export opportunity: looking into the future
Maxim Medvedkov, director, Department of Trade Negotiations, Russian Ministry of Economic Development
China as a global economic power
Yu Yongding, Chinese Academy of Social Sciences
The knock-on effect of China's changing role in world trade
Tu Xinquan, China Institute for WTO Studies of the University of International Business and Economics
The global influence of BRICS: a Brazilian perspective
Joao P Nogueira, International Relations Institute, Pontifical Catholic University of Rio de Janeiro, and general coordinator, BRICS Policy Center
Brazil as a global trading partner: does being in BRICS help?
Fatima Berardinelli, Adriana de Queiroz, Leonardo Paz, Renata Dalacqua and Andressa Maxnuck, Brazilian Centre for International Relations
South Africa takes its place on the world stage among global powers
Francis A Kornegay, Institute for Global Dialogue
The summit agenda
Assessing the economic power and potential of BRICS
YV Reddy, former governor, Reserve Bank of India
Potential to boost performance as an engine of global growth
Mikhail Titarenko, director, Institute of Far Eastern Studies, Russian Academy of Sciences
The challenge of becoming dynamic hubs of knowledge and innovation
Marcos Troyjo, co-founder and director, BRICLab, Columbia University
International cooperation: a need for capacity building
Georgy Toloraya, executive director, National Committee of BRICS Research, Russia; chair, Regional Projects Department, Russkiy Mir Foundation
Can a BRICS monetary arrangement resist the G7 wall of money?
Martin Gilman, former assistant director, policy department, International Monetary Fund
Reserve currencies and the international monetary system
Sergei Guriev, rector, New Economic School, Moscow, Russia
Plenty to gain from strengthening financial links among BRICS
Vladimir Dmitriev, chair, Vnesheconombank
Fuelling investment among BRICS countries
Leonid Grigoriev, deputy director general, Russian Energy Agency; head, chair of global economy, Higher School of Economics, Russia; and Alexandra Morozkina, chief specialist, division of analysis of investment and financial problems, Russian Energy Agency
Building a BRICS framework for science, technology and innovation
Leonid Gokhberg, Tatiana Kuznetsova and Anna Zaytseva, National Research University Higher School of Economics, Russia
BRICS: a private-sector perspective
Generating global growth in BRICS and beyond
An interview with Shanker Ramamurthy, president, Global Growth Organisation; member, executive board, Thomson Reuters
Development, health and agriculture
Leveraging the response to AIDS to advance health and development
Michel Sidibé, executive director, Joint United Nations Programme on HIV/AIDS (UNAIDS)
The role of BRICS countries in food and agriculture development
Prabeer Kumar Basu, secretary, Department of Agriculture and Cooperation, Government of India
Contributing to development through trade and investment
Peter Draper and Elizabeth Sidiropoulos, South African Institute of International Affairs
How convergence on nutrition and health benefits mothers and children
Manoja K Das, Kiranmala Devi and Narendra K Arora, the INCLEN (International Clinical Epidemiology Network) Trust International
The BRICS contribution to the fight against disease
Siphamandla Zondi, University of South Africa and Institute for Global Dialogue
Meeting the challenges of African food security
Jay Naidoo, Global Alliance for Improved Nutrition
Energy, environment and sustainable development
Climate change: from Cancun to Durban and beyond
Alexander Bedritsky, advisor to the president of the Russian Federation and special envoy for climate; president emeritus of the World Meteorological Organization
How building links among BRICS could help to solve fuel problems
Mikhail Komarov, director, Russian Institute of Economy and Mineral Resources Exploration; Evgeny Kozlovsky, vice-president, Russian Academy of Natural Sciences; and Rudolf Makrushin, Russian Institute of Economy and Mineral Resources Exploration
What factors are influencing china's climate policy?
Xu Ting, University of International Business and Economics, China
Peace and security
Cementing BRICS as a coalition of the global South
Ramesh Thakur, Asia-Pacific College of Diplomacy, Australian National University
The BRICS Summit must play a part in creating a safer global information space
Vladislav P Sherstyuk, aide to the secretary of the Russian Federation Security Council; director, Lomonosov Moscow State University Institute of Information Security Issues
India's business opportunities
The Indian retail boom awaits business model innovations
R Gopalakrishnan, director, Tata Sons Ltd
India offers an investment opportunity in infrastructure
BK Chaturvedi, Planning Commission, Government of India
Leaders' profiles
Biographies of the five BRICS leaders attending the New Delhi Summit
---